The ULTIMATE WiFi
Experience.
What is WAVE Connect?
WAVE Connect provides the Ultimate control of your home network. Our intuitive app design puts the device, networks, and parental controls you need at your fingertips. Get WAVE Connect Today!
Device-Level Access
Control what devices have access to sites or even the Internet. Helps you get a handle on the book club.
Protection, even from IQ Tests
WAVE Ultimate WiFi and the WAVE Connect work together to protect your network form malicious sites, viruses, and yes, IQ Tests.
Ultimate Parental Controls
The WAVE Connect app and Ultimate WiFi team up to find harmony for you and your home.
Everything in Managed WiFi
Real-Time Alerts
Advanced Network Security​​
Parental Controls
Create People Profiles
Coverage for 6 annual service calls
Prioritize Network Usage: Work, Education, & Fun
Already Have Managed?
Add Ultimate today.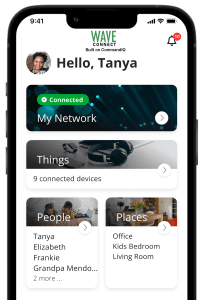 Fingertip Control
Easy Set Up
Multi-layer malware & virus protection
Receive WAVE Service Notifications
Change WiFi Passwords
Manage Connected Devices
Managed WiFi & Ultimate WiFi Features
Features

Managed WiFi

Ultimate WiFi

Create profiles in

People

X

X

Name and add an image for

People

X

X

Add/remove devices for each person

X

X

Manually turn a profile off/on

X

X

Schedule offline times – all days

X

X

Schedule offline times by an individual day

X

X

Receive service alerts

X

X

Filter content by category

X

Filter content by age group

X

Filter content by application (allow or block)

X

Filter content by website (allow or block)

X

View approximate usage per profile

X

Receive network & device notifications

X

Add time limit to application per day

X

Enable/disable

Safe Search

X

Enable/disable

YouTube restriction

X

Set

My Priorities

for devices and usage type (work, video & music, streaming, etc)

X

Up to Six service calls a year.

X
Frequently asked questions